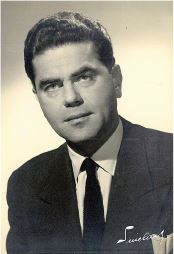 The Sight for Tomorrow Foundation was established in December 2013 by the late Mark Julian Ferster MD, an American oculist of Polish origin.
Mirosław Ferster was born on 28 May 1922 in Warsaw to Polish-Swiss parents. He was raised in Warsaw where he would go on to study medicine. During the German occupation he served for three years at the underground Medical Academy. He took part in the Warsaw Uprising and worked at a war hospital. During that time he experienced the brutal reality of war and dealt with some of the most serious cases, including patients requiring surgery. After the collapse of the Uprising he was kept in a concentration camp in Zeithain, Germany. He was awarded the Army Medal for War 1939–45 and the Home Army Medal by the Polish Government in Exile. After WWII he left for France where in 1951 he completed his studies at the Medical Faculty at Paris-Sorbonne University. In ­­1955 he moved to the United States, where he furthered his medical training at New York University and in 1956 received his MD degree. He then undertook work as an ophthalmologist, and in 1960 gained US citizenship, officially changing his name to Mark Ferster.
Mark worked as a medical doctor in France, the US and in Monaco. Even though he spent most of his life outside Poland he maintained strong connections with his native country. In 2001 he moved back to Poland where he spent his last years.
He set up the Foundation with the intention of giving all his property to charity and specifically to children suffering from various diseases. The main purpose of the Foundation is to help children with visual defects. Children are screened to determine at an early stage whether they need professional treatment. The Foundation aims to raise awareness of some of the shortcomings within the medical profession in Poland, thus addressing a serious social problem. Mark understood that problems with children's vision impede their development and as a consequence – in the long run, the development of the whole country. We continue his work in an effort to make Mark Ferster's wishes for Poland and for its children a reality.
Our Founder often emphasized that all help offered by the Foundation needs to be addressed on the basis of equality, e.g. irrespective of race, origin or religion.
Mark Ferster died in Warsaw on 1 January 2014. He rests in the family grave at the Protestant Reformed Cemetery in Warsaw.
Below are a few photos of Mark Ferster in various family and professional situations. Mark's mother can be seen in some of them.