The activities of the Foundation involve the preparation and implementation of a universal vision screening program for children aged 5–10, including therapy programs and treatment of vision problems.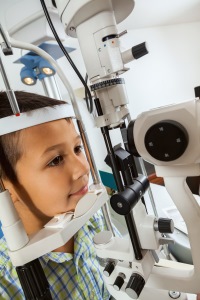 The vision screening examinations are targeted for preschoolers and older children. We realize the importance of identifying problems with children's eyesight at an early stage. Basic abilities such as reading and writing can be hindered by such problems, and this can have far-reaching effects physically and socially. It's important to know that symptoms associated with dyslexia or attention deficit hyperactivity disorder (ADHD) in children might be caused by poor eyesight. Also it is often the case that poor eysight stems from defects other than obvious refraction problems. Other defects, often omitted by professional opthalmologists, such as conversion deficiency can be the cause of these problems, and that's where our mission becomes particularly important. There are many who say that 80 per cent of learning comes directly through the eyes. Early identification and proper correction of vision problems and deficiencies are important for the proper development of every child, and in most cases permanent vision deficiencies can be avoided.
The Foundation has its own professional portable equipment and premises, and we carry out screening examinations in schools, pre-schools, at the Foundation's premises in Warsaw, our local branch in Cracow and our partner medical surgeries. We hire oculists, orthoptists and optometrists with experience working with children.
If any eyesight dysfunctions are identified in children during the screening, we offer an advanced ophthalmological diagnosis conducted by our oculists and, if needed – orthoptic therapy programs.