With young ones in mind we have prepared some recipes that use egg as the main ingredient! And as a variant in these recipes, you can try quail eggs (they are perfect for children!) – they contain fewer calories than chicken eggs and have more nutrients. They are also recommended for persons suffering from allergies. These dishes are not only tasty but they also support eyesight development. An egg is a treasure trove of minerals and vitamins, so add it to your child's diet (as long as they are not allergic to eggs). Before you start cooking let's take a look at why an egg from a healthy Polish hen (or quail) is a gold mine of precious nutrients:

The white of an egg is60% of its total weight, and it contains about 6g of the best assimilable protein.
EGGS FOR BETTER SIGHT – EASTER RECIPES
An egg contains phosphorus and sulphur compounds (which are recommended for all "white-collar workers" including children of school age), calcium (nearly as much as cheese, cream and sardines), zinc, magnesium, manganese, copper, sodium, potassium, silicon, chromium, iodine, fluorine and iron (iron contained in an egg is in the most assimilable form for humans).
EGGS FOR BETTER SIGHT – EASTER RECIPES
An egg contains:
· Vitamin A – also called the sight vitamin – is found in eggs in a directly assimilable form. In order to prevent so-called night blindness and cataracts, the body needs regular amounts of vitamin A,
· Vitamin E – i.e. the youth vitamin, fighting free radicals which contribute to body ageing,
· Vitamin D – very important for the health ofbones and teeth, but it occurs very rarely in nature so it is sometimes necessary to take supplements(especially during winter when there is not enough sunlight),
· B group Vitamins (mainly vitamin B2, a deficiency of which causes lip-sore, sand stys on the eye-lids as well as general annoyance),
· F Vitamin (rich in necessary fatty acids),
· H Vitamin – located in egg white – necessary for good metabolism, the effective functioning of the immune system, and improves the condition of the hair and complexion,
· K Vitamin – for effective blood coagulability – an antihemorrhagic agent
· Enzymes – contains many our system does not produce
· Choline –prevents fatty degeneration of the liver
· Lecithin –aids with fat absorption
Lecithin and choline – prevent cholesterol being deposited in blood vessels.
EGGS FOR BETTER SIGHT – EASTER RECIPES
Let's eat eggs! However in moderation, as an excess of egg white, minerals and vitamins may also be harmful! If you don't believe that lecithin and choline neutralise cholesterol we have a proposal for you: limit your consumption to two eggs a week. Contemporary research proves however that adults can safely eat three eggs a day! During Easter try conjuring up some unusual dishes with eggs and encourage your family to enjoy them together!
EGGS FOR BETTER SIGHT – EASTER RECIPES
EGGS FOR BETTER SIGHT – EASTER RECIPES
SOME PRACTICAL ADVICE

It is worth buying eggs from a trusted producer, from a trusted shop. Category 1 eggs come from hens which have access to a free run and which are fed on high-quality food. These eggs are more expensive but the fact that the hens are not as stressed as those crowded together in small cages is a strong argument to choose category 1 eggs. If you buy your eggs from a private producer: don't wash them before putting them in the fridge, as the natural system protecting the egg from bacteria will be damaged. Before use put them in boiling water to eliminate harmful bacteria (including salmonella), which usually occur on the shells. If eggs are bought from a trusted store it is enough to just wash them before use. Eggs shouldn't be boiled too long! If you want them to be hard-boiled, 6-10 minutes in boiling water is enough. A green ring around the yolk shows that the egg has been over boiled. Over-boiled eggs lose some vitamins, especially those from the B group, and their nutritional value is diminished.
EGGS FOR BETTER SIGHT – EASTER RECIPES

RECIPIES WITH EGG as the main ingredient
OMELET à la TORTILLA
Ingredients: eggs, a small amount of milk, salt, 1 teaspoon of butter or any other natural oil (olive oil is best);
Ingredients to fill your omelet: green peas, ham, kale, cherry tomatoes, herbs, or your favourite jam/ honey/marmalade;
Whisk the fresh eggs until stiff (6 eggs for 3 persons), add salt and milk (1/2 teaspoon for 2 eggs; for 6 eggs: one and a half teaspoons);
Melt the oil in a frying pan and when it starts boiling pour in the eggmix. Do not turn the eggs over –lift the edges, lightly frying on low heat. When you see the egg thickening and turning a golden colour, fold it over with your favourite ingredients inside. For the vegetable version add a slice of wholemeal bread and a bowl of diced melon for best results.
Voilà, it's ready!

EGGS FOR BETTER SIGHT – EASTER RECIPES
OMELETTE TOWER FROM EASTER LAND
Could it be something more adorable than an omelette tower? Prepare about 24 small omelettes (6 each for 4 people). Use a round silicon or metal mould that is resistant to high temperatures. Pour the eggmix into a frying pan.
Modify the egg mix a little by adding 2-4 tablespoons of flour (for example corn flour)– but make sure to beat the eggs thoroughly first for improved consistency and taste. Gently mix in the flour, keeping the consistency stiff.
EGGS FOR BETTER SIGHT – EASTER RECIPES
Ask your children to decorate their omelette towers however they like. They can use fruit, colourful toppings or even icing sugar. Organise a contest – the winner is the one who decorates their tower in the most attractive and beautiful way! If the taste of omelettes does not appeal to you, make small pancakes instead to build the towers.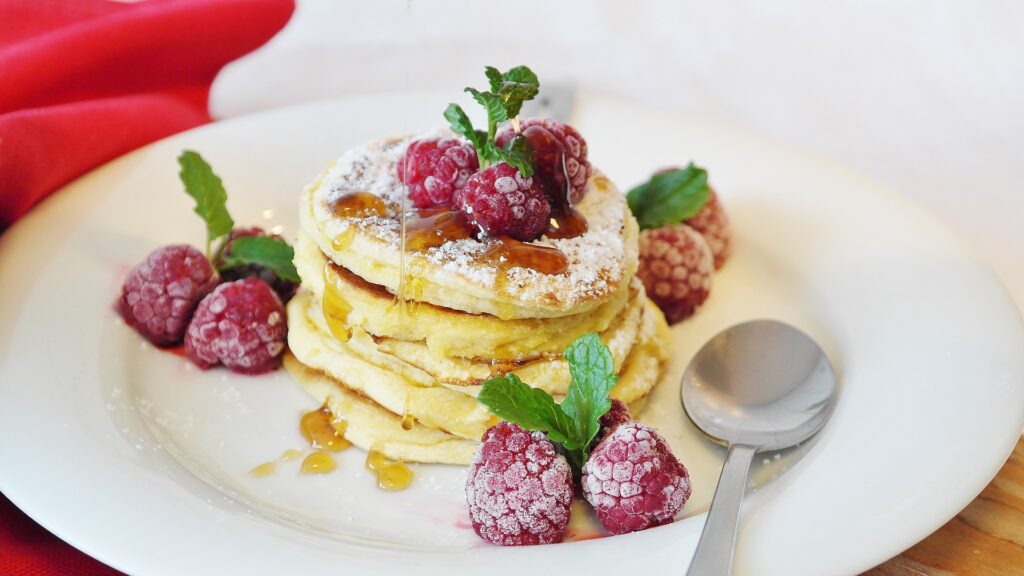 EGGS IN FENNEL SAUCE
Ingredients: 5 eggs, 1 tablespoon of wine or rose vinegar, 1/4 litre (a glass) of 18% cream(may be replaced by thick yoghurt), a bunch of a fresh fennel, salt.
Boil the eggs (do not overcook them!) then take off the shells. Slice them into halves, put on a plate. Rinse and dry the fennel, chop it, salt and stir for another 2-4 minutes. Cool yoghurt/ cream, then whip it, add fennel and vinegar, mix slowly. Pour the eggs into the prepared ready sauce and place bowls in a fridge.
EGGS FOR BETTER SIGHT – EASTER RECIPES
The two following recipes are based on avocado, which is also beneficial for sight! Thanks to the fact that they contain a large quantity of lutein they are perfect for use in sight therapy or for the improvement of sight in children and adults. It is especially important these days when technology is omnipresent and our eyes have endless contact with digital device displays and are forced to work hard – it is worth having avocado on our dinner tables more often.
EGGS FOR BETTER SIGHT – EASTER RECIPES
EGGS WITH AVOCADO PASTE
These two ingredients act as a magic health formula, improving eyesight.
Ingredients: 5 eggs, 15 small portions of avocado flesh, 1 pickled cucumber, 1 tablespoon of low-fat cream, 2 tablespoons of fresh lemon juice, a tablespoon of chopped parsley, salt, pepper, 5 walnuts.
Boil the eggs, take the shells off, cut them in half. Take out the yolks and mix them in with the avocado and cream until you attain a smooth consistency. Rinse the cucumber, dry it and chop. Add the parsley, lemon juice, salt, pepper and mix. Fill the egg whites with the paste, decorate with walnuts.
EGGS FOR BETTER SIGHT – EASTER RECIPES
BAKED AVOCADO WITH EGG
Ingredients (for 4 servings): 1 lemon, 2 avocados, 4 eggs, two handfuls of fresh spinach or rocket, cherry tomatoes or a handful of cocktail tomatoes, 4 tablespoons of olive oil, chives, a pinch of salt, turmeric, pepper.
Preparation time: up to 30 minutes
Temperature and baking time: up to 25 minutes at a temperature of approx. 180 degrees centigrade.
Optional extras: slices of lemon;
EGGS FOR BETTER SIGHT – EASTER RECIPES
Rinse all vegetables and eggs under fresh, cold running water. Find a dish in which four halves of avocado may be placed next to each other. Place fresh leaves of spinach on the bottom of the dish, add olive oil, sprinkle with a bit of turmeric. Cut the avocado in half to make two "boats". Remove the pit. Put the avocado halves on the spinach, peel on the bottom. Put a fresh egg in each pit hole. Fill the space around the avocado halves with sliced tomatoes. Add lemon juice to the avocado halves to prevent darkening. Now flavour with salt, pepper and a pinch or turmeric. Sprinkle on some fresh funnel and drizzle with oil.
Place a heat resistant bowl place in the oven and heat to 180 degrees.
Bake the dish no longer than 20 minutes if you want to keep liquid yolks; if you want the yolks to set, bake for 25 minutes.
To complete your work sprinkle the dish with lemon juice just after removing from oven. Not only does the dish look magnificent it also tastes delicious! Dear reader, let's cook together, you'll see how your kids will be delighted!
__________________________________________
Dear reader, our OPHTHALMOLOGIST and ORTHOPTIC OFFICE operates all year round. YOU CAN MAKE AN APPOINTMENT FOR AN OPHTHALMOLOGICAL AND ORTHOPTIC DIAGNOSIS with our CERTIFIED ORTHOPTIST on: 22 266 09 95 or via e-mail: biuro@zobaczycjutro.org.
EGGS FOR BETTER SIGHT – EASTER RECIPES
Come and visit us! We do our best to ensure that our young patients enjoy healthy sight and well-being each and every day!
Dancing avocado egg wishes all of you "bon appétit" for Easter! 😉

EGGS FOR BETTER SIGHT – EASTER RECIPES