Spring is coming and everything around is waking up slowly upon its arrival.
When preparing food for Easter, take seasonal vegetables into account (for example, pepper, carrot, broccoli and radishes) as well as fresh herbs such as basil, chives, parsley, rosemary and coriander. If you like experimenting – that's great, as diversity of ingredients is essential for a varied diet.
Easter can be used as an excuse to realise many culinary inspirations and at the same time encourage your kids to eat food they would normally avoid or simply don't like. The way a dish is served can also affect whether a child is tempted to try it.
Among traditional Easter dishes, certain ones are based on ingredients beneficial for our eyesight. For example: eggs stuffed with egg spread or vegetable salad. Be open to something new and add a bit of craziness or stick with recipes which have been past down from generation to generation in your family. We suggest trying traditional dishes as well as some that have been modified a bit – influenced by Turkish, Indian or Thai cuisine (having regard for seasoning). Bon appetite! 
SLOW FOOD – PREPARE FEWER DISHES BUT DEVOTE MORE TIME TO DOING SO!
Easter dishes don't have to be the same every year – it is worth adding a bit of modernity and slowing down a bit if you appreciate keeping the nutritional value of the ingredients. Prepare fewer dishes but have them be well thought-out and rich in beneficial ingredients. At the end of the day it is your children and closest family who consume them!
COMFORT FOOD – LET THE INGREDIENTS EVOKE THE TASTE OF CHILDHOOD AND YOUR FAVORITE PLACES!
It may sound a bit mysterious but … there is a wise, hidden philosophy: we should prepare and consume food in a comfortable way, which is slowly, with no rush and based on local, fresh products. We should make our "feast" be associated with things that bring good memories, like your childhood, travel, home or your favourite place on Earth. Don't skimp on seasoning or fresh herbs, as they provide your dishes with aroma and character.
—-> SMUGGLE IN INGREDIENTS WHICH ARE BENEFICIAL FOR EYESIGHT
—-> USE EGGS FROM TRUSTED PROVIDERS (FARMERS) AND CATEGORY I EGGS ONLY! Free-range chickens provide better quality eggs than chickens kept locked in cages.
EASTER RECIPIES PART I: SWEET!
CARROT CAKE // PREPARATION TIME: 1 h 30 minutes //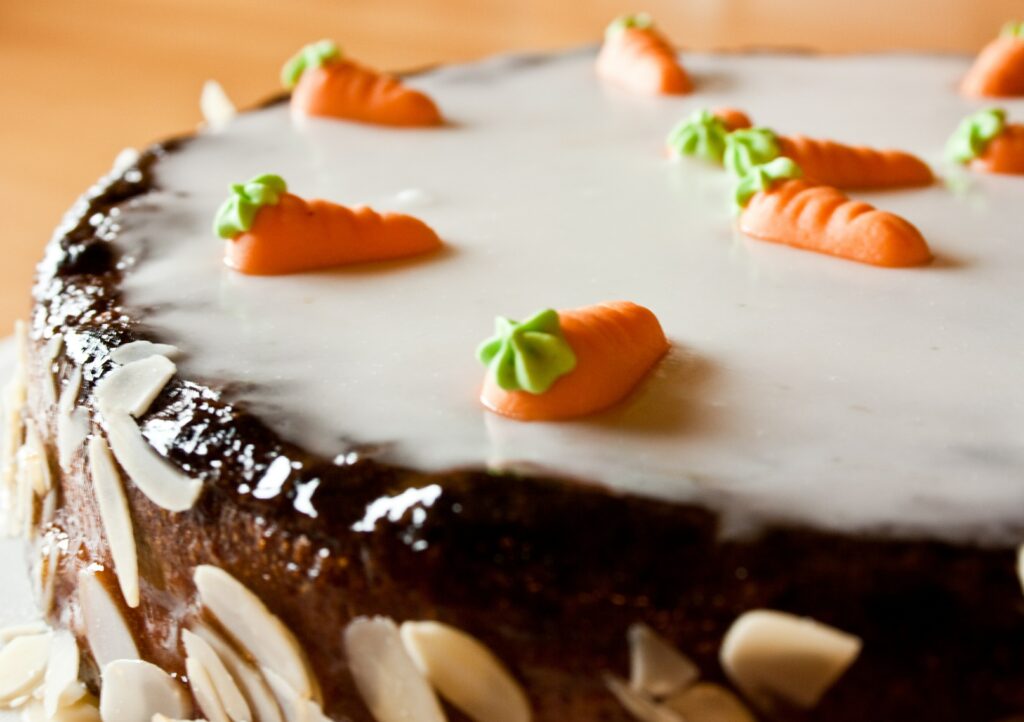 #HealthySight | Hidden ingredients beneficial for sight: BETA-CAROTENE (CARROT)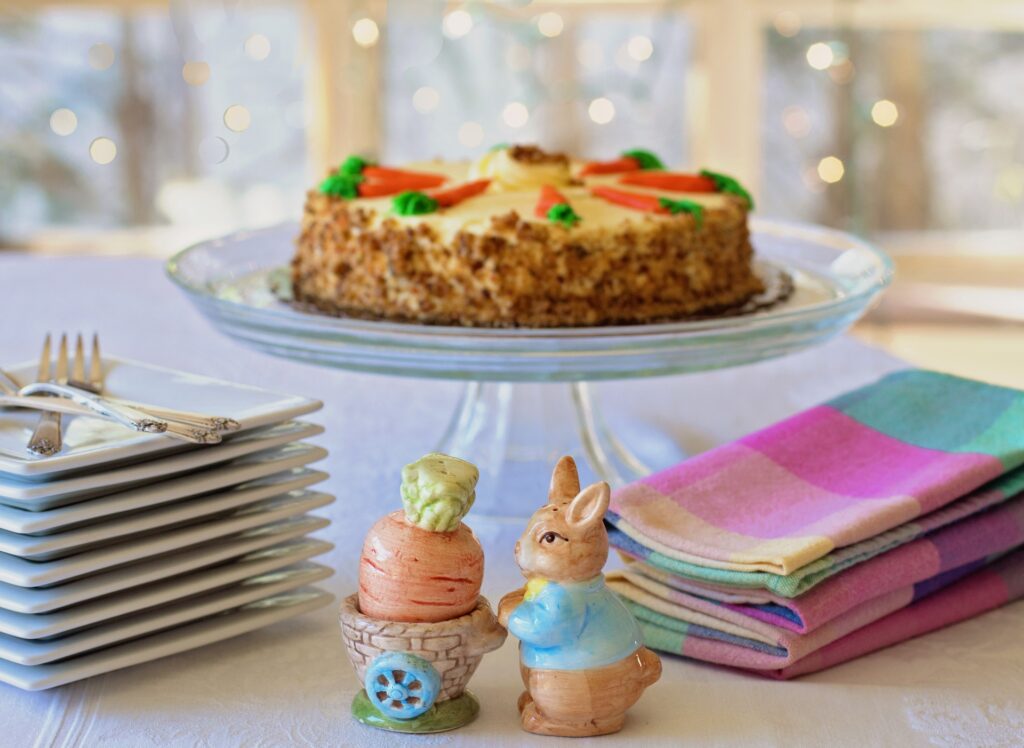 INGREDIENTS:
–> 2 eggs
–> 200 g of fine-grained sugar or powdered sugar
–> 150 ml of vegetable oil, e.g. from grape seeds
–> 300 g of finely grated carrot
–> 50 g of chopped almonds for decoration (can also be small carrots made from marzipan/ sugar)
–> 50 g of grated dark chocolate (60% cocoa)
–> 75 g of finely chopped pineapple (canned) or apple
–> 100 g of millet flakes and two large bananas (instead of 200g of flour)
–> 1/2 teaspoon of baking powder, 1 teaspoon of soda and cinnamon, a pinch of salt
–> for sweetness you can add 50-100g of desiccated coconut or a few teaspoons of honey; stevia leaves also add a bit of sweetness – you can crumble them up and add to the cake (3-6 leaves is enough)
 INGREDIENTS NECESSARY FOR PREPARING THE ICING  
–> 125 g of cream cheese, e.g. Twój Smak or Bieluch
–> 50 g of butter (soft – after 10-15 minutes after removing from the fridge it should have the perfect consistency)
–> 100 g of powdered sugar (or less)
CAKE PREPARATION
Take the eggs out of the fridge, leave them for some time to warm up, then whip them up. Add sugar and whip until they form a smooth mass. During whipping slowly add vegetable oil.
Crush the almonds – fresh ones are best as they can be easily chopped with a knife. Add carrot, pineapple, crushed almonds, desiccated coconut (4 teaspoons of honey or 3-6 stevia leaves) and mix.
Millet flakes should be cooked in the following proportion: a glass of flakes to 1.5 glasses of milk. When they are soft and form a smooth mass add mashed bananas, 100 g of flour and baking soda, cinnamon, soda and salt. Mix well. If you feel that the mixture is too thin, add some more flour. Then pour the mixture into the dish with the carrot and mix gently.
Put the ready mixture into a 24 cm diameter form (lined with baking paper).
// Bake for 1 hour. The cake should rise a bit; however it should be quite moist, as it contains bananas and millet flakes//
Whip the cheese with soft butter and powdered sugar. Let it set in the fridge for a few minutes. Divide the cooled cake into two parts (horizontally). Spread 1/3 of the sweet icing on the lower layer. Cover with the upper part and spread on the rest of the icing. Decorate with nuts.
BAKING TEMPERATURE: 150 DEGREES OF CELSIUS
EASTER RECIPIES PART II: SAVOURY!
SOFT-BOILED QUAIL EGGS // PREPARATION TIME: 10 MINUTES
#HealthySight| Hidden ingredients good for your eyesight: VITAMIN A (YOLK)
There is vitamin A in egg yolk (in a directly digestible form), which improves sight. If you wish to supply your child with the wealth of goodness in eggs don't boil them too hard – serve them soft-boiled. Why? An overcooked egg will lose some of its vitamins, especially from the B group; its nutritional value will decreased and it takes longer to digest.
Serve an over-easy egg on a slice of bread, e.g. with sunflower seeds and sprinkle with fresh chives! Bon Appetite!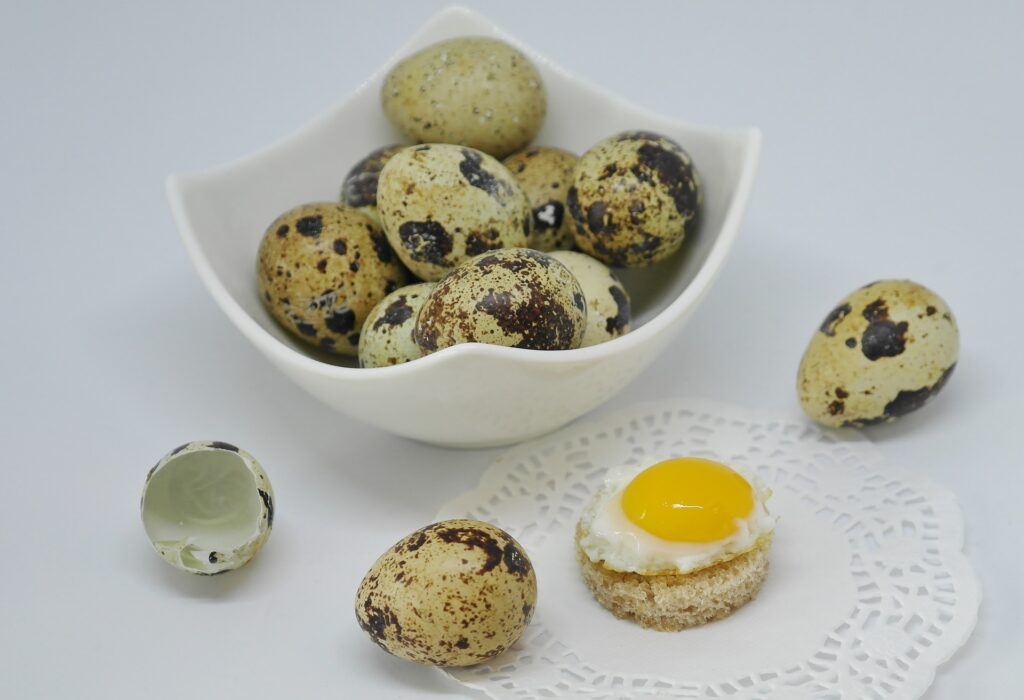 EGGS STUFFED WITH AVOCADO PASTE (SPICY) // PREPARATION TIME: 15 MINUTES
#HealthySight| Hidden ingredients good for your eyesight: VITAMIN A, LUTEINE (AVOCADO, RED PEPPER)
This is a very simple recipe. Your children will love the flavour!
INGREDIENTS:
2 AVOCADOS
8 BOILED YOLKS
3 CLOVES OF GARLIC
CHIVES
A PINCH OF DRIED CHILI
A PINCH OF SMOKED PEPPER (OR SWEET)
A TEASPOON OF WHITE MUSTARD
4 TEASPOONS OF LEMON JUICE
PREPARATION OF PASTE:
Cut the hard-boiled eggs in half – you can also cut them in half when the egg is in a vertical position and then the upper part can serve as a cover. Remove yolks.
Chop garlic – first chop it longwise and then crosswise or simply use a garlic press.
Remove the seeds from the avocados, and then mash the avocado with a fork. Add 4 teaspoons of lemon juice (carefully pour boiling water over the lemon first, then cut it in half and squeeze out the juice). Add seasoning: dried chilli and dried smoked pepper. Add the fresh, chopped garlic. Mix well.
Fill the empty egg whites. A serving suggestion is shown in the picture below (except they are using traditional egg paste):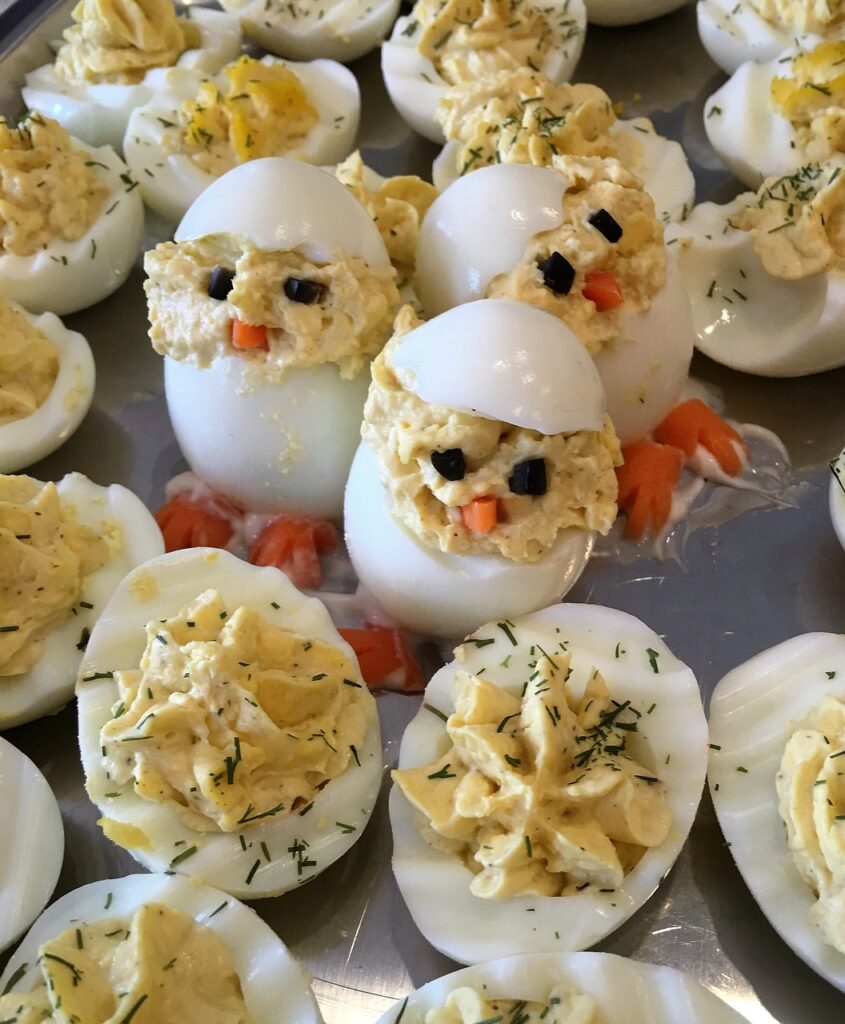 EGG FALAFEL WITH LAMB'S LETTUCE, BALSAMIC VINEGAR AND EDIBLE FLOWERS // PREPARATION TIME: 20 MINUTES
#HealthySight| Hidden ingredients good for your eyesight: LUTEIN (LAMB'S LETTUCE), ANTIOXYDANTS (LAMB'S LETTUCE), VITAMIN A (EGG), VITAMIN C (PARSLEY)
INGREDIENTS (FOR 8-10 PIECES):
10 FRESH CHICKEN EGGS / 20 QUAIL EGGS
2 ONIONS
2 CLOVES OF GARLIC
1 TABLESPOON OF OLIVE OIL
SEASONING: 1 teaspoon of milled cumin, 1 teaspoon of milled coriander, salt and pepper
240 g OF BOILED CHICKPEAS
1/2 BUNDLE OF PARSLEY
200 g OF BREADCRUMBS (HOME MADE, FROM WHOLE WHEAT BREAD IS THE BEST)
A little flour and corn barley to coat the falafels
Hot oil for frying
PREPARATION OF EGGS
Boil water in a pot, put the eggs in, boil them for 5 minutes (in order for the yolk not to congeal but remain liquid). After removing from the boiling water pour cold water over them. When they cool down remove shells.
MIXTURE FOR COATING THE EGGS: Dice the onion, chop the garlic (you can use a garlic press). Warm the olive oil in a frying pan and add the chopped vegetables. Fry them slowly until they are soft. Add seasoning and fry for another minute or so. When they have cooled down blend them into a smooth mixture. Add chickpeas and parsley, coriander. Now the most important part – all ingredients must be well mixed, so mix/ blend them until chickpeas are mashed into small pieces (not a smooth mixture!). Add breadcrumbs and 2 stirred eggs. Finally, season with salt and pepper.
EGGS IN CASING (i.e. Scotch eggs)
Divide the mixture into eight–ten parts (it can be twenty parts if you use quail eggs). Put some flour in the bowl. Take an egg and coat it gently with flour.
Flatten out a portion of the chickpea mixture in your palm, put an egg on it and close your hand – the chickpea mixture will stick to the egg. Bring the edges together and form a snappy scoop! It helps to dampen your hands with water or oil when forming scoops. Form the mixture around the egg carefully; make sure there are no spots or holes to ensure that the mass does not crack during frying. Next: coat the falafel pieces in corn barley.
FRYING THE FALAEL PIECES IN A FRYING PAN IN DEEP-FRY OIL:
You'll need a deep frying pen. Pour in the oil – approximately 3 cm, and warm it. If you are not sure whether the oil is at the correct temperature, do a test: put in a piece of bread – if it becomes brown in 30-40 seconds it means the oil is ready for frying!
PUT 3-4 FALAFEL PIECES INTO THE FRYING PAN. ROLL THE SCOOPS AROUND FROM TIME TO TIME IN ORDER TO MAKE THEM BROWN EVENLY. WHEN THEY ARE READY TAKE THEM OUT WITH A SKIMMER AND PLACE ON A PAPER TOWEL IN ORDER TO SOAK UP THE EXCESS OIL.
SERVING SUGGESTION: SAUCE IS AN INTERESTING SUPPLEMENT! WE RECOMMEND: YOGHURT SAUCE WITH GARLIC, THAI PASTE OR HARRISA SAUCE. TZATZIKI SAUCE IS ALSO A GOOD FIT.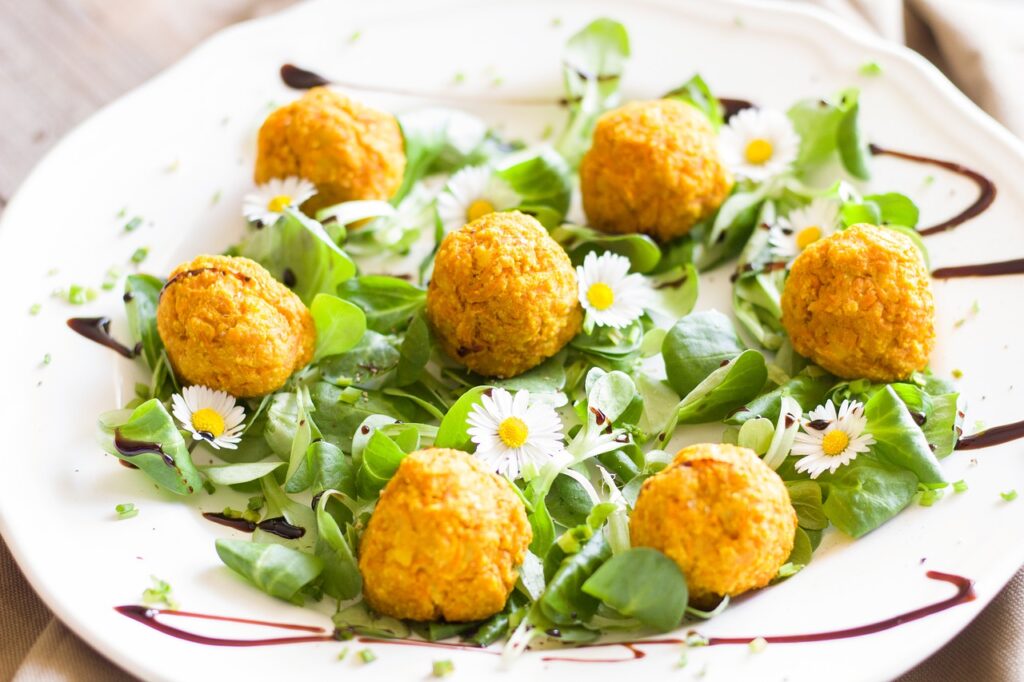 Zdjęcia: freepik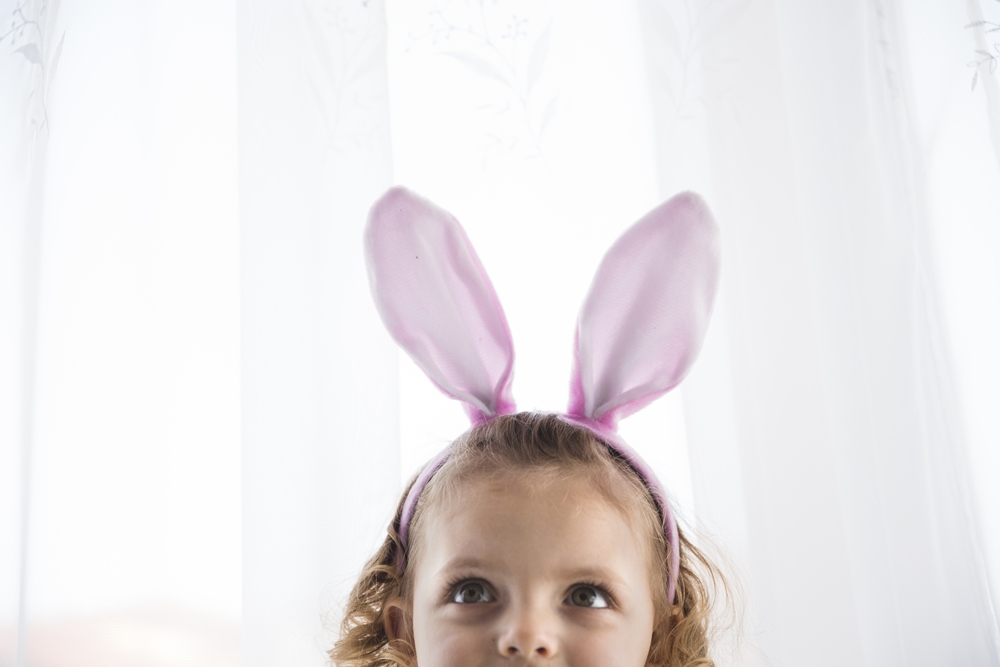 Zdjęcia: freepik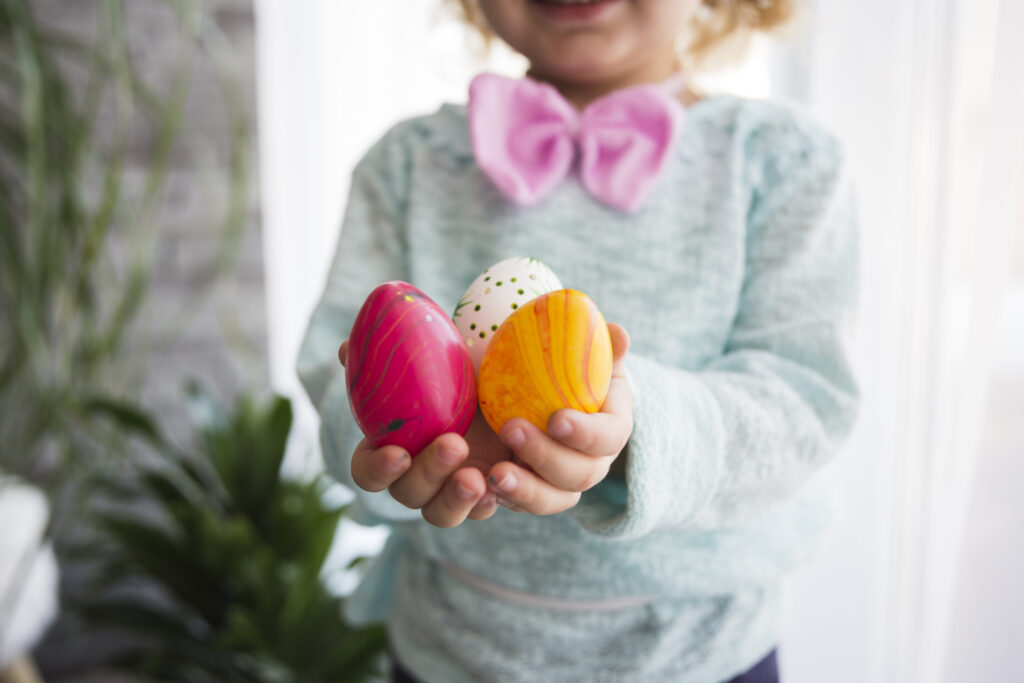 Zdjęcia: freepik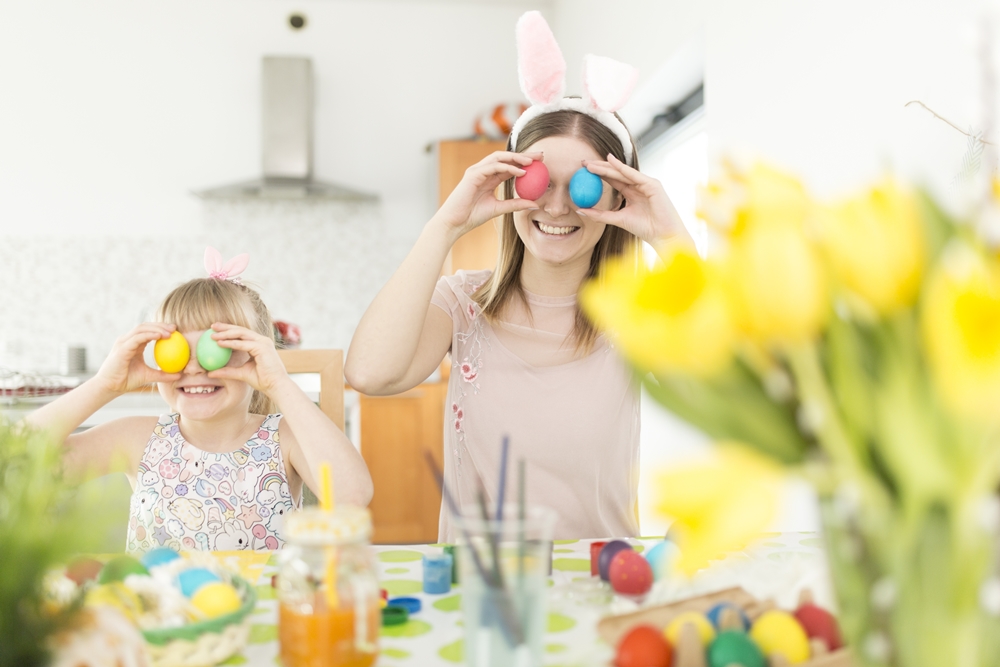 Zdjęcia: freepik
/ HEALTHY EYESIGHT: BETA-CAROTENE, LUTEIN AND VITAMIN A IN EASTER DISHES /