Very often children see badly despite having undetected vision problems – in this case, what then? It's simple: call an

ORTHOPTIST

for help. Only

a qualified orthoptist

can check how your child's eyes work together and diagnose any abnormalities of vision and then prepare an individual therapy program to improve and rehabilitate the child's vision.
Important: An orthoptist is a medical professional!
Let's take a look at the etymology of

"orthoptist"

and see what it means:
ORTHOPTIC (orht(o)- + -optic);
–
a branch of ophthalmology, dealing with binocular vision rehabilitation in concomitant squint, using appropriate exercises
(Dictionary of Foreign Words, PWN); Another definition:
ORTHOPTIC
– a branch of ophthalmology that deals with the examination and treatment of eye movement and setting disorders (of strabismus (eye turn)) and the enhancement function of binocular vision.
(ORHTO-) – prefix, in this case it means "straight", "correct", and it comes from the Greek (from the word: "orthos")!
An orthoptist's area of competence includes:
* Diagnosis of those aspects of vision that cannot be identified during a standard ophthalmic test (for example convergence, accommodation, eye movement, hidden strabismus or spatial vision);
* Rehabilitation of selected visual functions in the field of binocular vision and eye movement disorders (mainly: amblyopia, strabismus)
* Supporting the work of ophthalmologists in diagnostic procedures for diseases of the eye and the visual system.
Our orthoptists have developed a pleoptic therapy plan (the treatment of amblyopia and retraining visual habits)
Our orthoptist will perform:
* an accommodative-convergence test
* an assessment of visual acuity for distance and near vision
* an assessment of eye movement
* an examination of hidden and visible strabismus
* a test to differentiate colours
* an examination of binocular vision
* a measurement of the angle of the strabismus
AN ORTHOPTIC DIAGNOSIS, PLEOPTIC THERAPY PROGRAMS ARE CARRIED OUT AT OUR CHILDREN'S EYE CENTER SITUATED NEAR THE ARKADIA SHOPPING MALL IN WARSAW. CONTACT: 22 266 09 95
The main disorders that an orthoptist treats are:
– strabismus – "cross eyed" (eye turn – usually to the nose or to the temples)

– impaired convergence (convergence of the eyes), which makes it difficult to read or write

– amblyopia – "lazy eye" – usually in one eye in spite of perfectly matched glasses

– crippled accommodation – problems with sharpening images at different distances, e.g. at kindergarten or school, while looking at the board and then at a notebook
– difficulty in gauging the depth (3D) of a stereoscopic picture
 IMPORTANT: A detailed orthoptic diagnosis, including the measurement of binocular vision should be done before the child starts school, and then repeated every year!
When an irregularity of vision is detected, orthoptic therapy enables proper visual functioning in the future, better academic achievement (including the elimination of failure at school) and most importantly: definitely a better mood! 
Ms Anita Gutkowska, a certified orthoptist, works with our Foundation: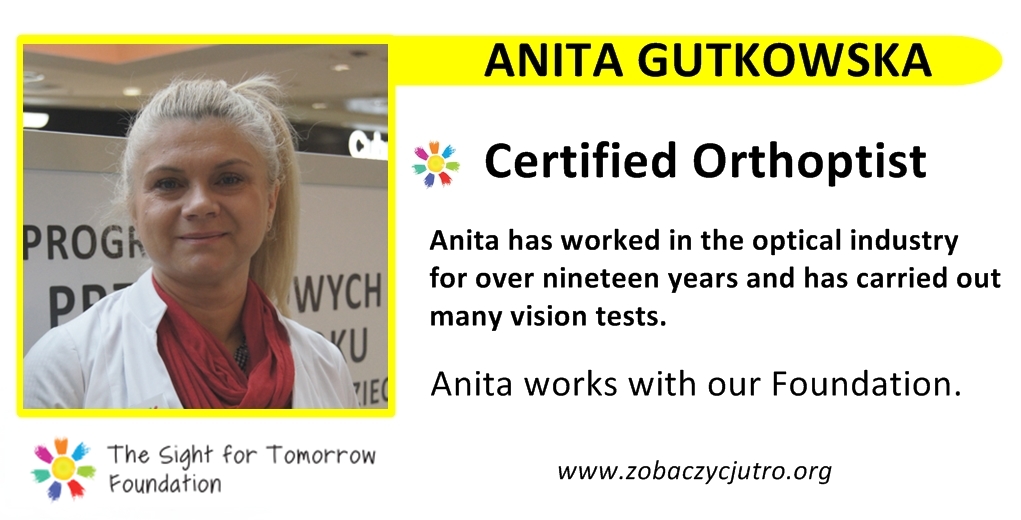 Anita has worked in the optical industry for over nineteen years and has carried out many vision tests.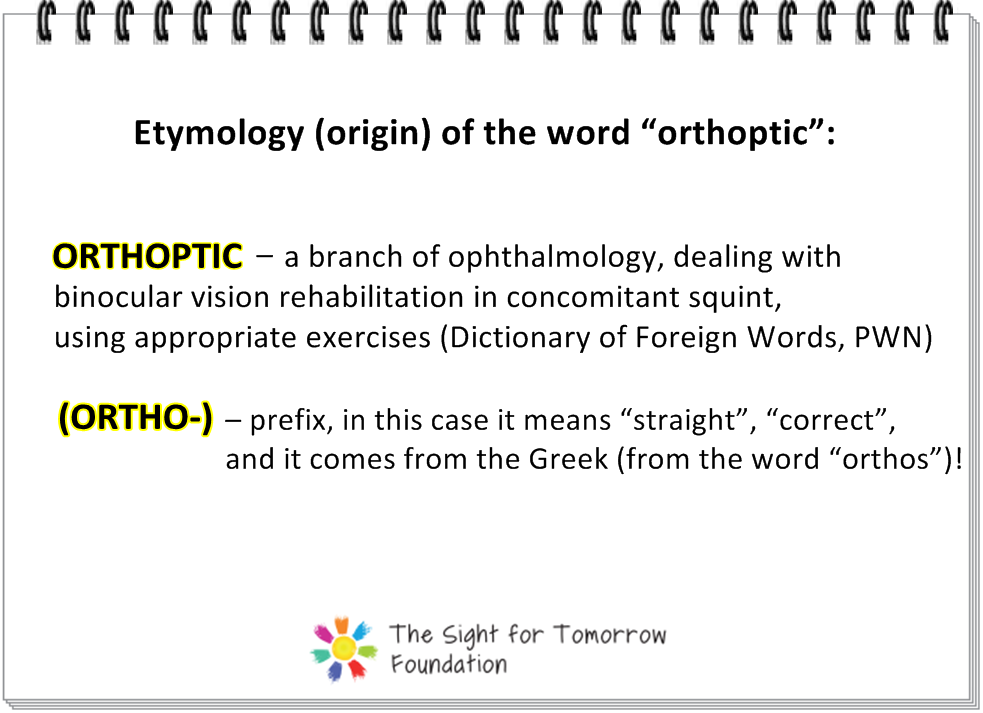 If you notice any abnormal symptoms we recommend carrying out a special vision test. The examination took place at the office of The Sight Of Tomorrow Foundation near Arkadia Shopping Mall in Warsaw. Book your child in for a visit any time. We accept bookings throughout the year. CONTACT: 22 266 09 95