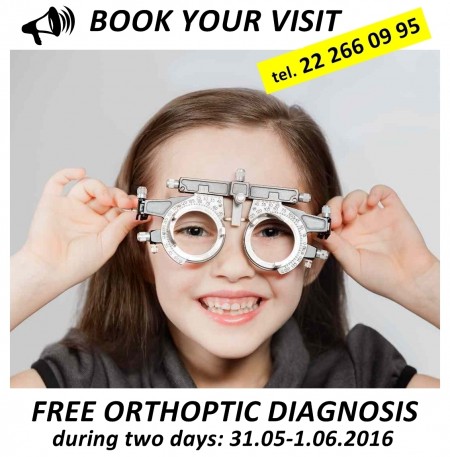 To celebrate Children's Day we would like to warmly invite you to our clinic for a free, fully professional orthoptic diagnosis for children aged 5-16! Especially for the young ones, the free diagnoses will be held over two days, 31st MAY and 1st JUNE.
The examinations will be carried out by our certified orthoptists: Mrs Ewa Młodawska and Mrs Anita Gutkowska. The diagnoses will take place at our office at 80 Jana Pawła II Avenue, apartment 130 on the 21st floor
Due to the strong interest we have had to implement a visiting schedule. We kindly ask you to schedule your visit for a time that suits you – booking is possible over the phone: 022 266 09 95. If you prefer writing, email us: biuro@zobaczycjutro.org. We will answer as soon as possible! The new board and many other suprises are waiting for you!
EVENT ON FACEBOOK: FREE ORTHOPTIC DIAGNOSIS
VENUE: Warsaw, The Foundation's registered office at 80 Jana Pawła II Avenue apartment 130, 21st floor (close to Arkadia)
DATE: 31st May (Tuesday) and 1st June (Wednesday)
We warmly invite you to join our event – on the official Sight for Tomorrow Foundation's profile on Facebook! SUBSCRIBE OUR EVENTS:  The Sight For Tomorrow Foundation's FACEBOOK EVENTS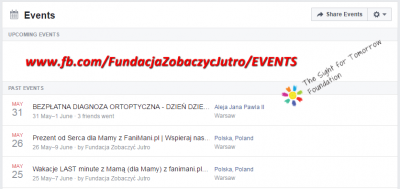 THE DIAGNOSES WILL BE CARRIED OUT BY OUR MAGNIFICENT ORTHOPTISTS

, noted for their exceptional professionalism and warm approach to children.  We are very proud that they have been cooperating with our Foundation for such a long time!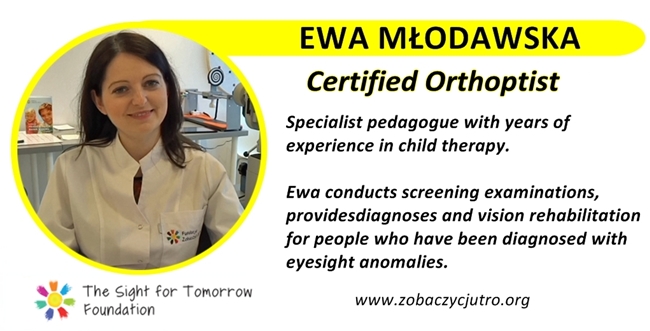 Dear parents, if you have never attended an orthoptic diagnosis with your child, we invite you to watch our video below titled "Questions and answers on ORTHOPTICS". New materials arriving soon, in the meantime:
VIDEO NO. 1 – WHAT IS AN ORTHOPTIC DIAGNOSIS?  Answer provided by Ewa Młodawska: https://youtu.be/8PqRcj4bCgw
MOVIE NO. 2 – WHAT HAPPENS DURING AN ORTHOPTIC DIAGNOSIS? Answer provided by Ewa Młodawska: https://youtu.be/Epov-x4-RxA 
Children feel happy and relaxed at our clinic, and they can spend their time playing between examinations: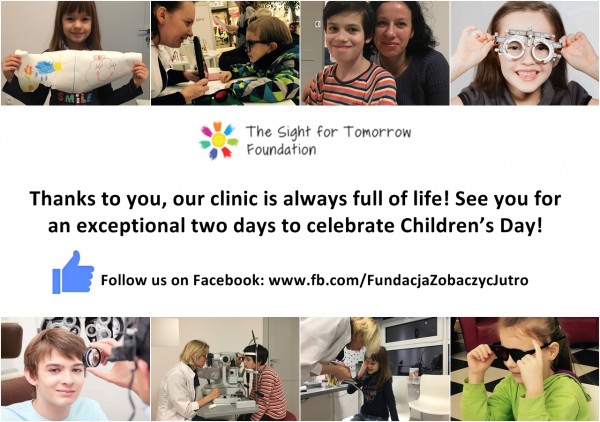 When children visit us, they can for example paint and draw on a wall with special felt-tip pens: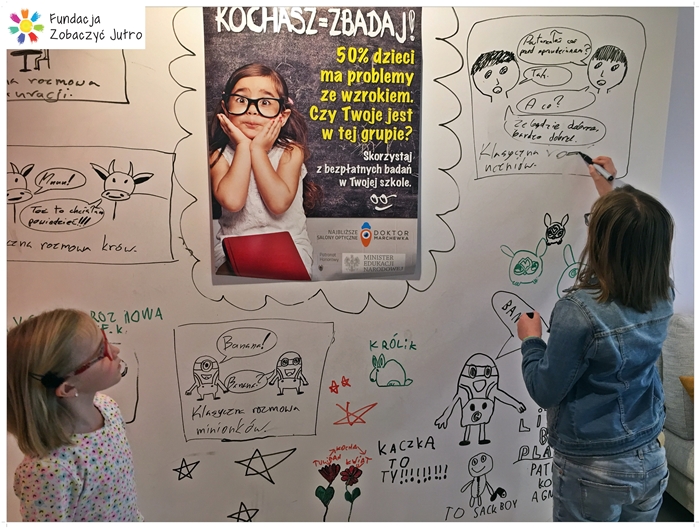 See you at the Foundation's Office soon!
OUR NEW  Board of the Foundation: