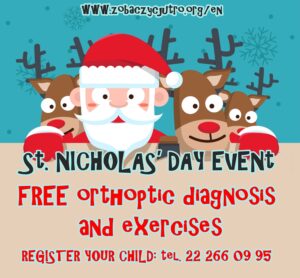 On 6th December, at our office (on the 21st floor of the Babka Tower building at 80 Jana Pawła II Avenue, apt. 130) we organised a free St. Nicholas' Day Event, during which our paediatric orthoptist, Anita Gutkowska, conducted orthoptic diagnoses and tests. Delightful reindeer and small Santas visited us accompanied by their parents (mums mainly!). On that day there was plenty for the children to do – painting, singing, dancing and getting up to all sorts of mischief! A lot of activities were set up in the waiting room, near the orthoptic clinic. See for yourself!
Małgosia and Agnieszka watched closely as all the children drew lots from the magic ball, and chose their favourite Christmas colouring books! The most popular were those with the Three Kings and camels, Christmas Trees and Santa Claus. Joanna took pictures and recorded videos as well as encouraged them to paint on our magical paper. It was a magical St. Nicholas' Day as the children drew us into their colourful worlds. Various characters romped about our office: Godzilla the Mutant, the Red Nosed Rudolf, the Rat, the Black Reindeer, the Green Hut and the Mysterious Cat. They liked our office very much as they settled in at our art gallery – they would have stayed with us all day! See our video: "FABULOUS ST. NICHOLAS' DAY", and you will see what was happening at the event:
THE SIGHT FOR TOMORROW FOUNDATION PRESENTS: "FABULOUS ST. NICHOLAS' DAY"
We hope Santa brings you a huge pile of wonderful gifts this Holiday Season.
Franio couldn't decide which colouring book to take with him. Finally he picked the Christmas Tree book!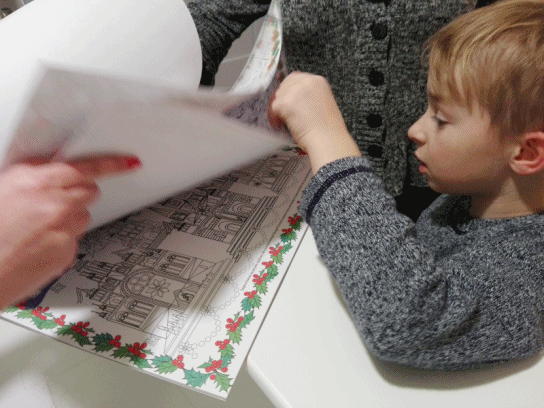 Bianka was waiting for her little brother and her mum in the waiting room when she decided to start painting:
Immediately after leaving the clinic area, one of our patients really wanted to paint something. He didn't hesitate a moment – quickly he sat at a desk and started drawing very bright green grass. It turns out he loves all kind of monsters – giant and mutant monsters in particular!

– "Franek, look at this! A Tyrannosaurus Rex!" – Joanna points to a dinosaur toy
– Yes. And a dinosaur's egg has been irradiated and Godzilla is born!
– True. Draw in the eyes!
Franek draws a pair of malicious, red eyes.
– Oh brother, what a huge mouth it has! So, how's it gonna be Franek, shall we place your Mutant in our little Art Gallery? – A big smile appeared on Franek's face.
And that was how Black Godzilla joined our Gallery. And now, it's surely rampaging all over our office at night, when nobody's there!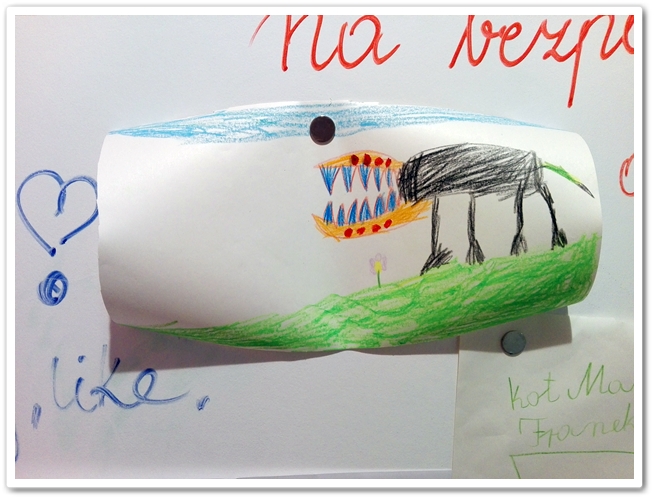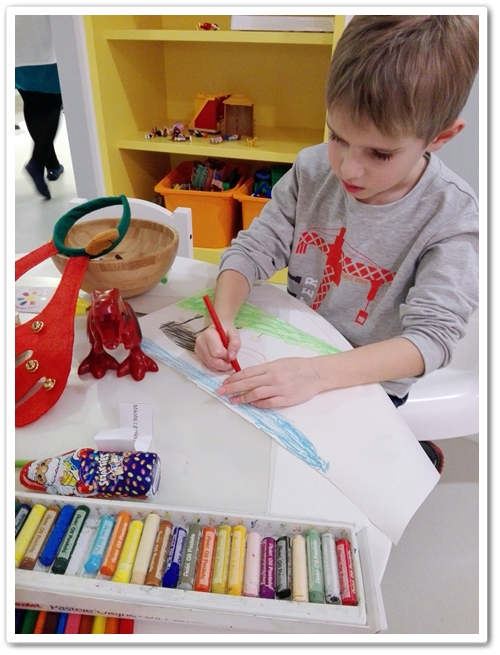 The other Franek decided to draw a hut, and he couldn't take his eyes off our baskets full of toys.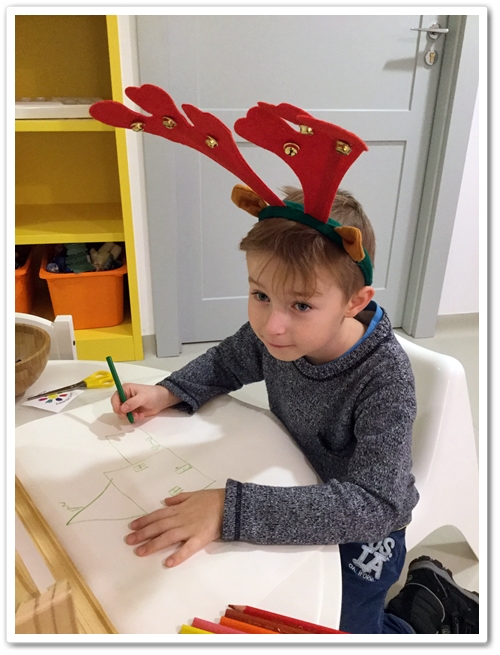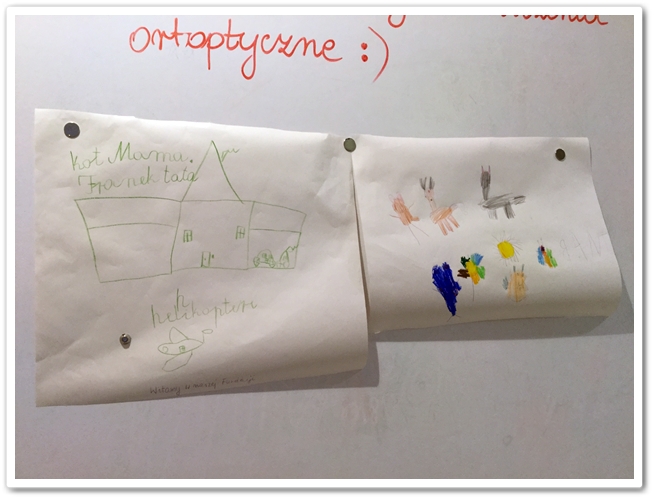 Joanna and Grześ took a photo so as to remember their time with us. After a dozen or so tries, adjusting the camera and the length of selfie stick, they succeeded: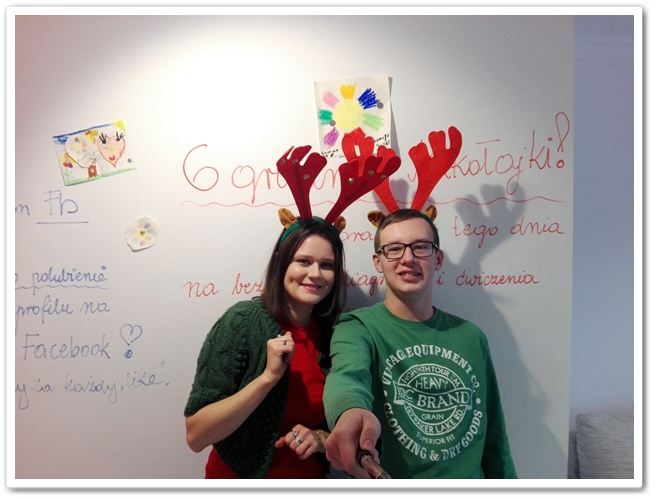 During St. Nicholas' Day our irreplaceable orthoptist Anita Gutkowska tested and diagnosed 13 Patients. It was quite a challenge but Anita did very well – all went smoothly and quickly. Anita has wide experience, a good approach and huge patience with children. See what was happening in the clinic:
Ishihary charts are used to test colour vision in children:
The stereoscopy test TNO (BUTTERFLY TEST – 3D) – is used to test spatial vision and to measure the degree of stereoscopy: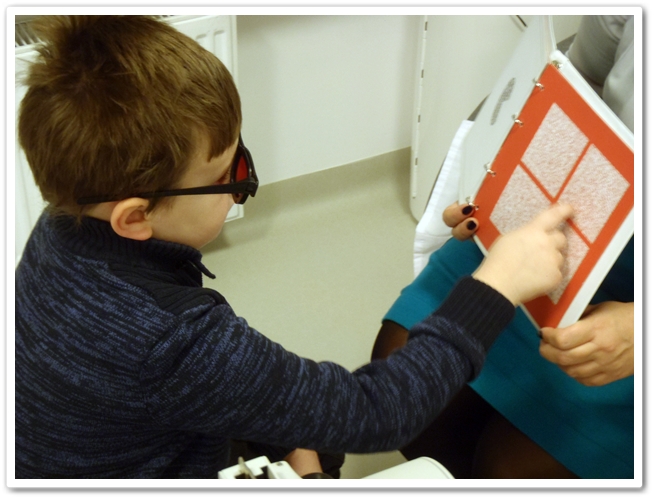 Typically we use an Optotype LCD Projector to evaluate binocular vision and also test the contrast and clarity of distant vision. The size of the optotypes (letters) is calibrated automatically according with the chosen working distance (the distance at which the patient sits from the test board) in order to preserve the same angle of vision. It is possible to switch colours – black and white, which means that instead of black optotypes on a white background we can also choose white optotypes on a black background. The equipment is highly accurate and sensitive. This gives the opportunity to test patients who have undergone cataract surgery or suffered a refraction disorder.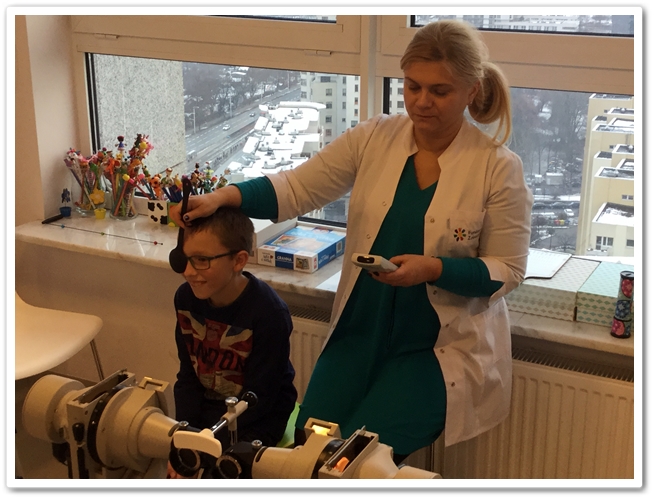 Anita checks the mobility of the eyeballs, checks accommodative convergence and determines the near convergence point:
Franek liked the kaleidoscope very much: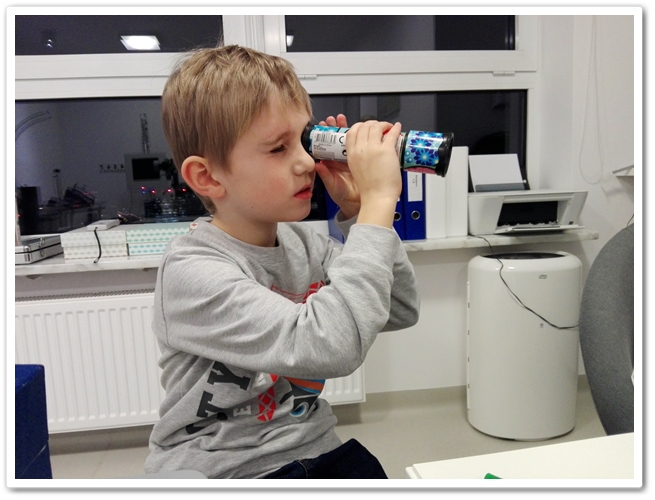 This complicated"creature"(see picture below) is a synoptophore. It is unusually friendly and has a strange shape but it likes to help its little patients very much! A device that any orthoptic diagnosis cannot do without! It is used for diagnosis and for many types of orthoptic exercises. With its help we can determine the subjective and objective strabismus angle, perception, fusion, suppression and retina correspondence.

We invite you to watch our short video:
"SYNOPTOPHORE TEST": https://youtu.be/shszxPv2B4Y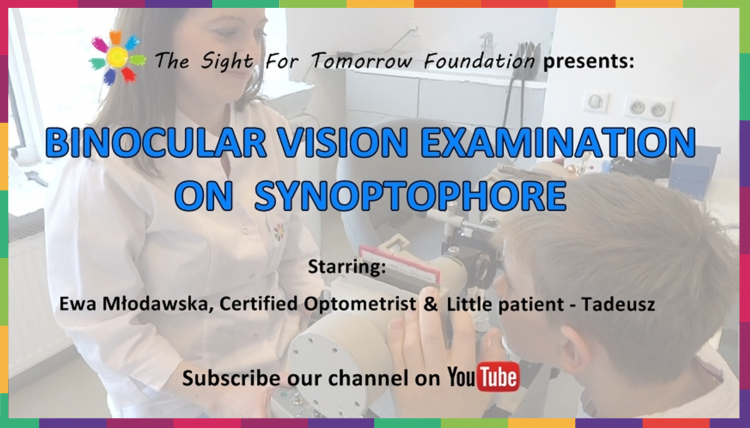 THANK YOU VERY MUCH FOR SPENDING ST. NICHOLAS' DAY WITH US. See you next year!