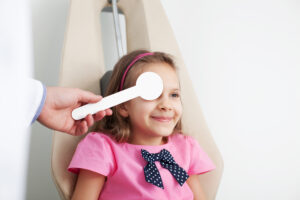 In order to identify vision defects at an early stage and carry out a thorough examination including looking into whether or not the child is experiencing any sight-related difficulties at school, we operate a vision screening program for children. Vision screening is conducted in schools, pre-school facilities, children's homes and welfare centers as well as in public places such as shopping centers. We will start our screening program in Cracow. The screening examination is non-invasive and is conducted with the use of optical devices and eye tests.
The vision screening conducted by the Foundation includes a) distance acuity testing; b) examination of manifest and latent strabismus; c) color differentiation testing; d) binocular vision testing; and e) corneal reflex test with a synoptophor.
After the screening, the child's legal guardian will receive a written report, and if any vision deficiencies are identified – written instructions for further ophthalmological diagnostics or orthoptic diagnostics and therapy.
.